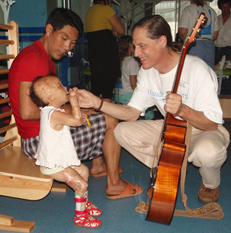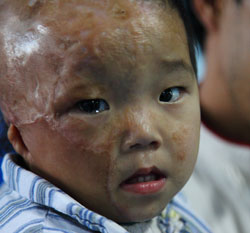 Yang Xue Ting (Ting Ting)
Yang Xue Ting was only an infant when her crib caught fire from an exploding television. She was burned over 43% of her body with second and third degree burns. She suffered injuries to her face, scalp, hands, and feet. Her parents, impoverished labor workers, could not afford to sue the manufacturers and could not afford to care for Xue Ting, affectionately known as TingTing. TingTing's parents were counseled by doctors to take the easy way out – and let their infant daughter die.
Dedicated to their daughter, TingTing's parents refused. With HandReach's help, TingTing has been able to receive care from Jianshe Hospital and the China General Air Force Hospital in Beijing. TingTing has also received her first prosthetic foot, with the promise from a local prosthetics company to continue to supply her as she grows.